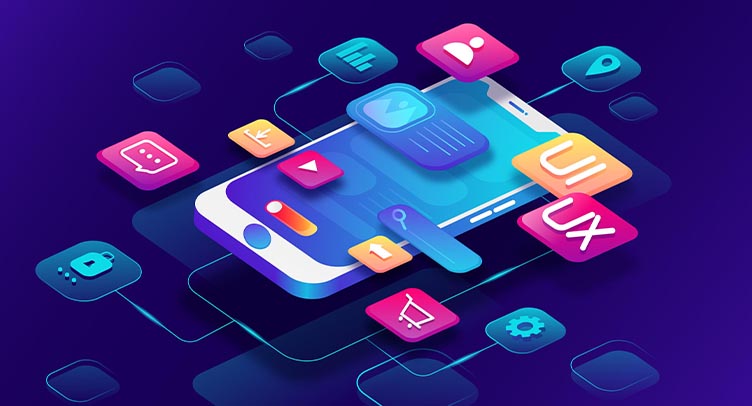 App Development Company Sharjah - Did you know? Mobile apps generated approximately $700 billion in revenue last year and this mobile enterprise is expected to be valued at $511 billion this year. This data clearly shows that having a mobile app is an asset for any business. So, if you are looking for the App Development Company Sharjah, then you must reach out to Infoquest. Infoquest offers a complete solution for mobile app development.
Apps have become a part of everyone's life in this digital world. It makes our life much more accessible and opens new possibilities with just a click away. The same statement can go for any business or company. Mobile apps can be a great source of increasing visibility, reach, brand awareness, analysis, and so on. There are hundreds of possibilities for investing in app development and converting it into a lifetime asset. So, to get a quote for your project, then feel free to contact Infoquest. You can call us at +97145194300, +971508566441, or write us an email at sales@infoquestit.com
Why Mobile Apps are Important For Business?
Mobile app downloads have surged up to 45% since 2017 and reach an approximate value of $258 billion in 2022. With the increasing penetration of the internet across the globe, the market size of mobile apps is estimated to generate customer spending via apps to a value of around $156 billion. The data has shown the present and future aspects of investing in good app development projects. However, here is the list of top reasons "why mobile apps are crucial for the business to excel"-
Having a cross-platform mobile app helps in targeting a much bigger audience and building efficient marketing strategies to capture the global market
Many businesses need to create awareness or make payments and communication much more convenient for some. Here Mobile apps can play a vital part.
Also, apps help in Increasing accessibility & promote brand recognition.
It helps in creating a unique customer experience and increases customer engagement.
Mobile apps are the best way to direct marketing channels.
In addition, the purpose and function of a mobile app can differ from business to business. For example, a retail business can use the app to directly contact the distribution channels for smooth delivery and payment. Whereas a healthcare company can use it for scheduling appointments, billing, etc.
Reach Out To The Leading App Development Company Sharjah!
Infoquest is the leading partner of many businesses, enterprises, organizations, and startups to deliver mobile applications development, web application, and even web design & development projects. Also, We are a complete digital solutions company that believes in delivering quality, and custom products on time. Coming to app development, Infoquest has an experienced and skilled team of developers & designers. Moreover, we follow a standard process of analysis and assessment, market research, ideation, planning, execution, testing, and development & support for app developers to make sure we deliver quality and high-tech products within the time frame. One can reach out to Infoquest for the following list of services-
iOS App Development
Android App Development
Hybrid App Development
Mobile App Designing
App Marketing
Support and Maintenance
In addition, we keep the communication channels open with the client for continuous improvement and feedback. The major objective during app development is usability, scalability, and security. Here at Infoquest, we took care of all these three factors which make us unique in the market. So, if you are planning to invest in an android/IOS or multi-platform app, then you must contact Infoquest!
Why Infoquest Is The Best For App Development In Sharjah?
Even though several companies in Dubai deal in mobile app development, Infoquest made it to the top of the list of app development companies in Dubai. We already hold the experience to handle projects across industries and have global experience. Throughout the tenure of our operation, we have worked with big names like Subway, Michelin, Fit Republik, Thomson Reuters, British Council, and so on. Also, Infoquest holds expertise in IOS10, Android, Windows, Xamarin, Unity, Augmented Reality, PhoneGap, Sencha, and many more.
Now, there are some features of Infoquest as the top-rated App Development Company Sharjah -
A highly skilled team of mobile app developers
In-house QA and testing team
100% customized app with scalability
Complete assistance and technical support services
App development for all the industries
Get a free quote for the project
At last, if you are interested in meeting with Infoquest for an app development project, feel free to reach out to Infoquest on the following details!
Contact Details
Company Name: Infoquest DMCC
Phone Number: +971 4 519 4300, +971 50 8566 441
Email Id: sales@infoquestit.com
Skype Id: Infoquestit
Address: Infoquest DMCC, P.O.Box: 50308, Unit 1113, DMCC Business Centre, Level No. 1, Jewellery & Gemplex 3, Dubai, United Arab Emirates
Frequently Asked Questions (FAQs)
Question - Who is the best app development company in Sharjah?
Answer - Infoquest is the best and most reliable app development company in Sharjah.
Question - Is your company offer a custom-made app for android and iOS?
Answer - Yes, Infoquest does offer a 100% custom-made app for android and iOS.