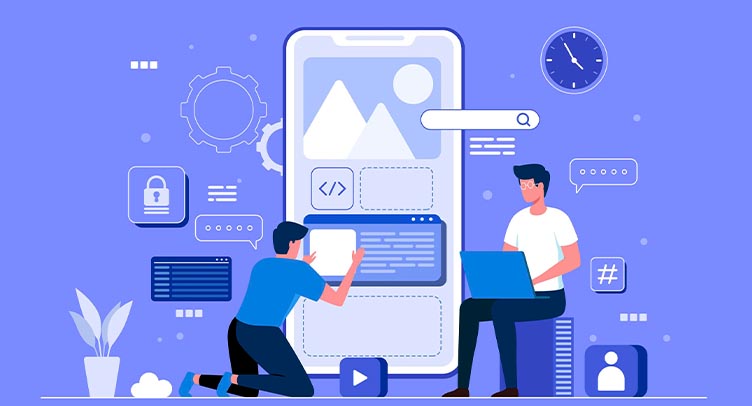 Mobile App Development Company In Abu Dhabi - If you are looking for custom-based mobile app developers, then Infoquest is the right answer. We are a high-rated mobile app development company in Abu Dhabi. Here you will get a 100% personalized creative, and innovative mobile app project at a minimal investment. Not only do we offer a mobile application but lifetime assistance.
There are plenty of reasons to put money into hiring good mobile app developers. With increasing digitalization, every other person has a smartphone these days. Whether you are running a product-based business or service-based business, connecting with the customers is the priority. Endless applications are having a phone app that will be discussed in detail. Infoquest is the leading IT company that deals in a wide range of services including web design and development, digital marketing, SEO, mobile app development, web application, and so on.
Therefore, if you want to book an appointment with us or have any queries for us, then feel free to reach out to us. Call us at +97145194300, +971508566441, or write us an email at sales@infoquestit.com
Top Reasons Why Businesses Require Mobile Apps
Over 6 billion people have a smartphone today and on average every person spends 5-6 hours on their mobile. Every small or medium-sized business ultimately needs to invest in a mobile app. There are many reasons in favor of going digital one way or another.
Following is the list of top reasons why businesses require mobile apps-
First, the mobile app is a great source to monitor consumer behavior and provide an edge for any business.
Secondly, a mobile app helps in creating a direct and open communication channel with their customers. So, the mobile app helps in building customer relationships and establishing loyalty.
Also, Mobile apps are a great way to create brand awareness and promote products/services to the target audience.
Moreover, Data Mining is rather a new concept yet very useful for any business. Collecting data from different sources & analyzing them helps in better understanding the customer's buying trends.
Finally, the mobile app makes online purchases much more convenient. Order placed through online portals has seen a spike rise during and after the pandemic.
Healthcare, retail, electronic, and even service-based businesses are being shaped by technology in one or another way. As you can see there is an endless scope of having your mobile app for any business. Digitalizing at a fast pace and it is high time to bring your business online by investing in mobile app development.
Leading Mobile App Development Company In Abu Dhabi - Infoquest
Infoquest has years of experience in mobile app development that has worked with many leading companies across the globe. We assured high-standard products within the time frame that was fully based on the requirement of the client. Not only that, Infoquest does offer technical support for a lifetime. Also, Infoquest has been among the top development companies in Dubai that deliver a customer-oriented project that is user-friendly, 100% customized, and interactive. Moreover, the mobile app will be within budget and comes with easy integration & scalable features. Following is the list of mobile apps development services available at Infoquest-
iPhone App Development
IPad Application Development
Android Application Development
Windows App Development
PhoneGap Development
Cross Platform Development
Mobile App Porting
Custom App Development
IWatch Application Development
AR App Development
Apart from it, Infoquest offers a complete solution for any business. Infoquest is here to not only help in developing unique mobile applications in the UAE but also in other services including web designing & development, digital marketing, and search engine optimization. That makes a huge difference and provides a competitive edge over competitors.
Why Choose Infoquest For Mobile App Development In Abu Dhabi?
Every project has its requirements and we have completed hundreds of projects across the fields. Whether you want an eCommerce app, business app, or utility app, we understand and deliver projects accordingly. Infoquest is the most trusted mobile app development company in Abu Dhabi, Dubai that offers unique products based on the client's requirements.
We have a team of highly skilled developers that possess years of experience. Each app goes through rigorous testing to make sure we deliver quality. Also, our app models are scalable and highly interactive with lifetime customer support. Thus, we have achieved a 100% customer satisfaction rate and made Infoquest the final destination for mobile app development in Dubai. So, if you are interested in partnering with Infoquest, then feel free to reach out to us at the following details!
Contact Details
Company Name: Infoquest DMCC
Phone Number: +971 4 519 4300, +971 50 8566 441
Email Id: sales@infoquestit.com
Skype Id: Infoquestit
Address: Infoquest DMCC, P.O.Box: 50308, Unit 1113, DMCC Business Centre, Level No. 1, Jewellery & Gemplex 3, Dubai, United Arab Emirates
Frequently Asked Questions (FAQs)
Question - Why is mobile app development important for any business?
Answer - The mobile app is one of the biggest revenue sources for many businesses and customers are preferring mobile applications over websites.
Question - Who is the best mobile app development company in Abu Dhabi?
Answer - Infoquest is the best mobile app development company in Abu Dhabi.